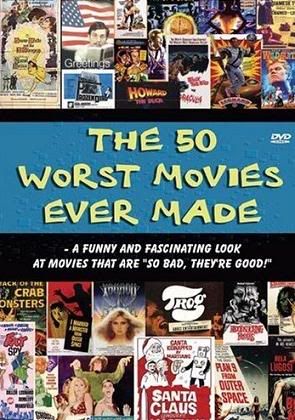 Y hablando de malas películas y otras peores, este documental ofrece una probadita (películas malas y peores suman muchísimo más que cincuenta, o tal vez sí, si lo escribimos ''sin cuenta'') de lo que ha llegado a la pantalla de plata sin haber invertido nada de la misma.
A ninguna película la hace mala el poco presupuesto, sino la forma de emplearlo. Y las hay desde las más chafitas hasta las superproducciones más costosas...
Y esta es la crema y nata, o las del fondo del barril dependiendo de como se les vea, pues se salvaron (de la lista, mas no de la ignominia) Gigly, The Ape, Battlefield Earth, Troll 2, HIghlander 2, Freddy got fingered, Showgirls, The Conqueror, Catwoman, Alone in the dark, 1942, Hook, Crossroads, Glitter y párele de contar.
He aquí la lista (en orden de la menos peor hasta la última, que es ya de plano deleznable, según este documental) y sólo he visto 14 con premeditación, alevosía y ventaja:
GLEN OR GLENDA 1953
MESA OF LOST WOMEN 1953
TROLL 1986
TEENAGE ZOMBIES 1959
THE FAT SPY 1965
VOODOO WOMAN 1957
ISHTAR 1987
FRANKENSTEIN CONQUERS THE WORLD 1965
THE CREEPING TERROR 1964
SANTA CLAUS CONQUERS THE MARTIANS 1964
HOWARD THE DUCK 1986
THEY SAVED HITLER'S BRAIN 1968
BLACK BELT JONES 1974
GREETINGS! 1968
THE GREAT ALLIGATOR 1979
HILLBILLYS IN A HAUNTED HOUSE 1968
TNT JACKSON 1975
ROBOT MONSTER 1953
THE INCREDIBLE MELTING MAN 1977
FIREBIRD 2015 AD 1981
DRACULA VS FRANKENSTEIN 1971
BRIDE OF THE MONSTER 1955
SMOKEY AND THE BANDIT PART 3 - 1983
XANADU 1980
LEONARD PART 6 - 1987
THE WILD WOMEN OF WONGO 1958
BELA LUGOSI MEETS A BROOKLYN GORILLA 1952
THE APE 1940
GALAXY OF TERROR 1981
THE ROBOT VS THE AZTEC MUMMY 1958
SNOW WHITE (GERMAN VERSION) 1955
CREATURE FROM THE HAUNTED SEA 1961
THE SWINGING CHEERLEADERS 1974
TRIAL OF BILLY JACK 1974
KILLERS FROM SPACE 1954
SPIDER BABY 1964
TROG 1970
THE THREE STOOGES IN ORBIT 1962
THE CRIPPLED MASTERS 1982
THE SORCERESS 1983
THE CRAWLING HAND 1963
BLOODSUCKING FREAKS 1976
JD'S REVENGE 1976
FRANKENSTEIN MEETS THE SPACE MONSTER 1965
KILLER SHREWS 1959
GREAT WHITE 1980
PLAN NINE FROM OUTER SPACE 1959
THE THING WITH TWO HEADS 1972
EEGAH! 1962
THE INCREDIBLE STRANGE CREATURES WHO STOPPED LIVING AND BECAME MIXED UP ZOMBIES 1967